BEC Lecturer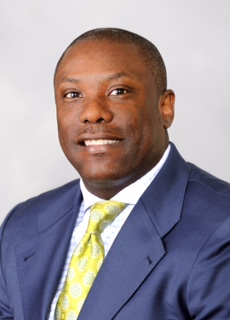 2018 Biblical Exposition Conference Lecturer
BIOGRAPHY OF PASTOR CLIFFORD L. MAYES
Pastor Clifford L. Mayes was born November 29, 1972, to Pastor Clifford and Ann Mayes of Leighton, Alabama. At 6 years old he accepted Jesus Christ as Lord and Savior of his life. At the age of 18 he accepted the Lord's calling of him into the preaching ministry under the leadership of Dr. George J. Granville of Mt. Olivia Baptist Church, Muscle Shoals, Alabama.
As an associate minister, God favored Pastor Mayes with many preaching opportunities all over northwest Alabama. He was elected Vice President of the Young Ministers Division of the Muscle Shoals Baptist District Association. At the age of 20, he was called to pastor the Ebenezer Baptist Church of Athens, Alabama (1993-1996). While serving the Ebenezer Church he was elected 2nd Vice Moderator of the Round Island Creek Baptist District Association.
Pastor Mayes was called to his 2nd pastoral assignment at the Galilee Baptist Church of Florence, Alabama at age 23 (1996-2001). While serving the Galilee Church he was elected 2nd Vice President of the Congress of Christian Education of the Muscle Shoals Baptist District Association. He was a frequent guest speaker on Comcast Gospel Show of Florence, Alabama. Pastor Mayes' sermons were aired weekly on the Christian radio station 101.5 FM in Florence, Alabama.
Pastor Mayes was called to his 3rd pastoral assignment at The Macedonia Baptist Church in Toledo, Ohio at the age of 28 (2001-present). During his tenure, he has served as secretary of the Baptist Ministers Conference (2003-2004) and Moderator of the Ohio New Life Baptist Association (2007-2010) both of Toledo, Ohio. He previously served as the liaison of young pastors and moderators of the Moderators Division of the National Baptist Convention USA, Inc. under the immediate past President, Dr. Julius Scruggs.
Pastor Mayes was educated at the Colbert County High School class of 1991. His formal education was received at Northwest-Shoals Community College of Tuscumbia, Alabama and University of North Alabama, Florence, Alabama. In addition, he studied at Heritage Bible College of Huntsville, Alabama.
Pastor Mayes is nationally renowned for his preaching prowess as he constantly travels the length and breadth of this country. He has preached numerous times in the National Baptist Convention and in the Garnett Nabrit lecture series of the American Baptist College of Nashville, Tennessee. Most importantly he is appreciated and adored by the saints of The Macedonia Baptist Church for his passionate declaration, his personable demeanor, pragmatic doctrine, and his persistent desire to lead the church to a higher level of worship and work for the Lord Jesus Christ.
He is also the proud father of two beautiful children: a daughter, Ashtoni, and a son, Carsten.